Tasmania may be Australia's southernmost state, but the region is known for its rich, lush of greenery, alpine territories, cliffs, and rocky coasts. A family holiday camping at Tasmania serves an aisle where blue waters, green hills, and snowy mountains that appeal to kids.
From hiking with scenic views and swimming with dolphins to camping in winter and playing obstacle courses, see what Tasmania can offer to your little tykes. Tasmania's flourishing diversity makes it a region worthwhile to explore.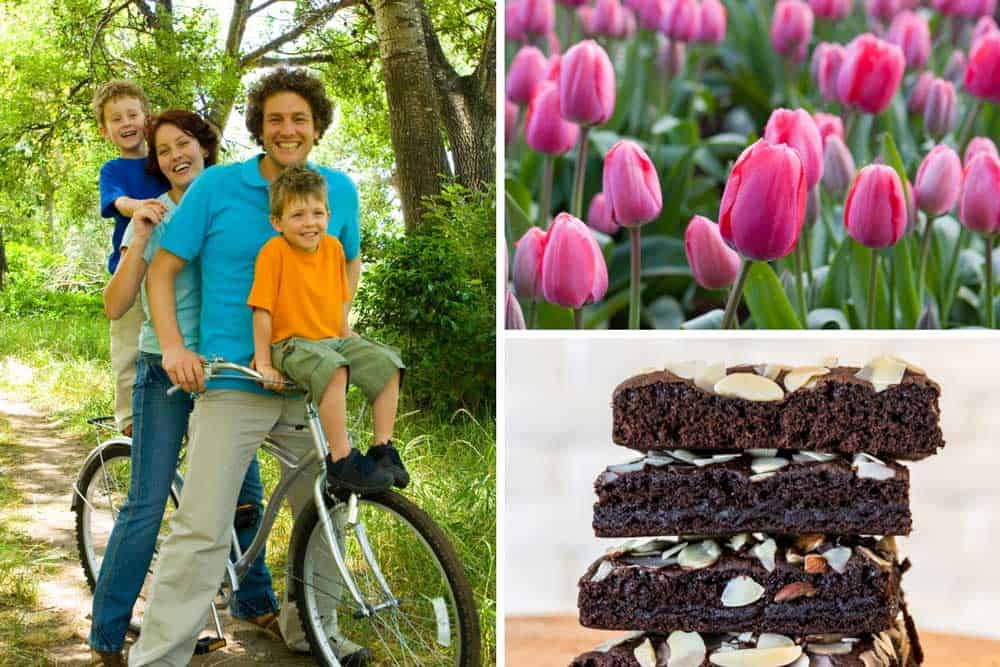 Cradle Coast
The Cradle Coast is known for its vast picturesque landscapes including world heritage-listed sites, coastal hubs, forest adventures, and even local markets.
Accommodations
There are various accommodation options in the Cradle Coast for the whole family. There are holiday parks, campgrounds, and caravan sites that offer easy access to the Cradle Mountain, majestic coasts, and remote rainforests in the region. Meanwhile, there are also hinterland farm stays, cottages, bed and breakfast, and holiday houses to try on. If you're looking for some glamping experience, there are apartments, units, and hotels for rent.
Corinna Wilderness Resort
Latrobe Mersey River Caravan Park
Railton Hotel
Strahan Beach Tourist Park
Tall Timbers Tasmania
AAA Granary Accommodation
BIG4 Strahan Holiday Retreat
Camp Banksia
What to see and do at Cradle Coast
Diverse experiences await the whole family as you course through the region offering various panoramas and adventure for the family.
Visit Cape Grim, which has the cleanest air on earth
Family farm to plate experience at Mount Gnomon
Take a train ride at West Coast Wilderness Railway and see scenic vistas from Harbour and the King River Gorge
Visit the Table Cape Tulip Farm, Table Cape's 12 million-year-old volcano, and the lighthouse
Wildlife sightseeing, swimming, horseback riding, and camping at the Narawntapu National Park
Take an Instagram photo of Tasmania's "Big Things," such as the Big Penguin, Big Platypus, Big Apple, and so forth
Join family-friendly adventures at the famous Cradle Mountain Canyons
Ride along the Strahan ATV Adventures and enjoy the Henty Dunes and Macquarie Heads
See the Cradle Mountain Wilderness Gallery
Dessert galore at Van Diemen's Land Creamery and Anvers Chocolate Factory
Overall, Cradle Coast is a family destination worth visiting especially if you want spice and variety in your family vacation. Sometimes, it'll take you around 30 minutes to get to the beach, countryside, and hinterlands.
---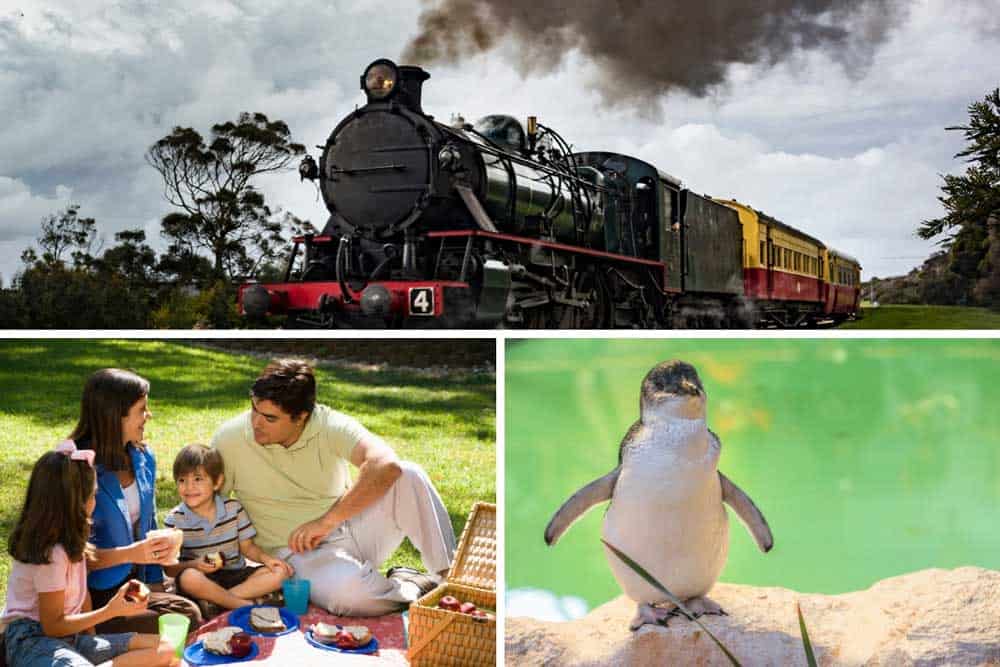 Devonport
Not far from Cradle Coast is Devonport, the region full of coastal scenery and history-laden characters. It's relatively known as the docking point for cruise ships and the Bass Strait emporium.
Accommodations
Devonport is no short of accommodations with great views. It has plenty of holiday parks, hotels, and lodges that serve as safe havens before you go and explore the region with the whole family. You'll find powered and unpowered camp and caravan sites, country cottages, and farm stay. There are hotels in the area if you want a more glamping lifestyle while choosing to commune with nature.
Bay View Holiday Village
Discovery Parks – Devonport
Abel Tasman Caravan Park
Cameo Cottage / Devonport Bed And Breakfast
Alice Beside the Sea
Stony Rise House and Cottage
Merseybank Apartments
Hawley House
What to see and do at Devonport
Devonport has loads of excursions for people young at heart. That being said, the whole family can enjoy various activities ranging from hiking to watersports.
Visit the Bass Strait Maritime Centre and be a steamer captain
Go to the Devonport Regional Gallery for arts and crafts
Ride the Don River Railway and see various nature reserves and historical places
See the Arboretum, a natural reserve where you can have picnics with the family and a guided tour of the Limestone Heritage Walk
Get into penguin watching, swimming, and hiking at Lillico Beach
Visit shops like the Simon Martin Whips and Leathercraft and Tasmania Gift Shop
Stop over the Antique Emporium, a top attraction and collectibles shop
Tour the Home Hill and attend events for the whole family
Have picnics by the Coles Beach
Take an Instagram-photo op at the Mersey Bluff Lighthouse
One can actually take a couple of side trips at nearby towns and cities which will take you about more or less 20 minutes. Side trips from Devonport include Dove Lake Circuit, Somerset Orchid Reserve, or Waratah Falls.
---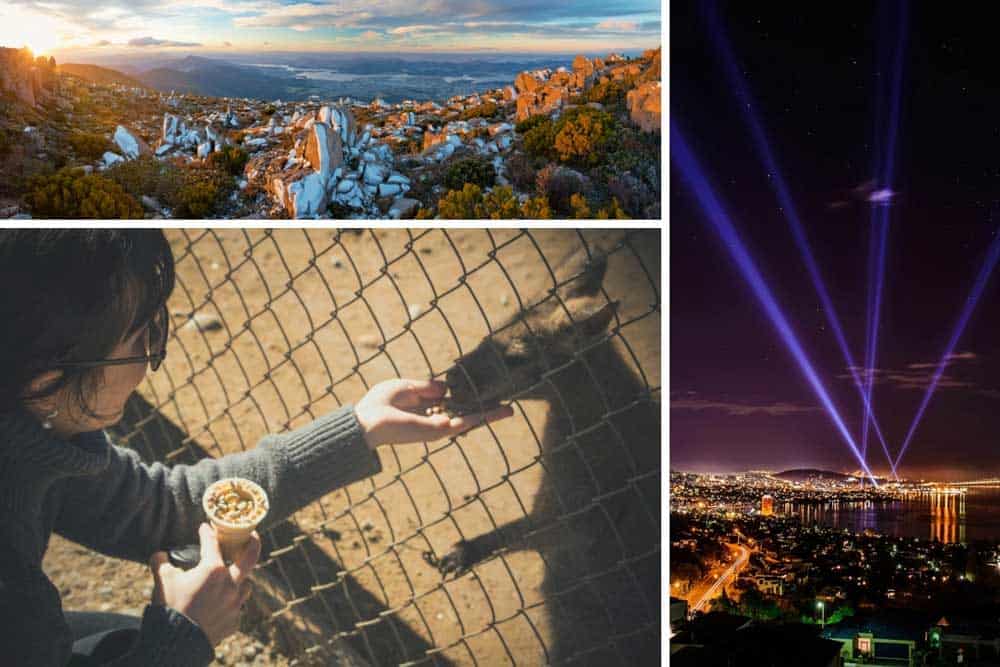 Hobart
Hobart might be a small city compared to some, but it has so many experience and sights to offer. The city serves as a hub of tourism points in Tasmania. See why it's a focal point for most history spots, arts and recreation, and biodiversity.
Accommodation
The city has a wide range of sites offering powered and unpowered slots to caravans, campervans, and motor homes. What's more, they offer glamping options like lodges, cabins, and hotels as well. Of course, they have plenty of amenities and facilities including communal kitchen, laundry, picnic area, children's playground, and kiosks onsite convenience.
Discovery Parks – Hobart
Hobart Bush Cabins
Hobart Airport Tourist Park
Hobart Showground Motorhome Park
Hobart Holiday & Caravan Park
Seven Mile Beach Cabin and Caravan Park
Hobart Cabins and Cottages
Hobart Bush Cabins
What to see and do at Hobart
One can experience a flurry of activities and a feast on scenic views at Hobart City. From historical finds, nature reserves, and culture appreciation, here's what you can do at Hobart.
Visit Mt. Wellington and enjoy horseback riding, biking, or driving along the trails.
Take a cruise by the Derwent River and learn about Tasmania's Aboriginal history
Experience Bonorong Sanctuary with its daily tours and special feeding session with the animals
Be at awe with the Myrtle Forest Falls and have picnic within the area
Spend a relaxing day at Royal Tasmanian Botanical Gardens
Fins interesting valuables at the Salamanca Market
Go wildlife sightseeing at Bruny Island
Walk along Mt. Nelson trails, especially with the Historical Truganini Walking Track
Eat by Hobart docks
Walk along Hobart Rivulet up to the Cascade Gardens
---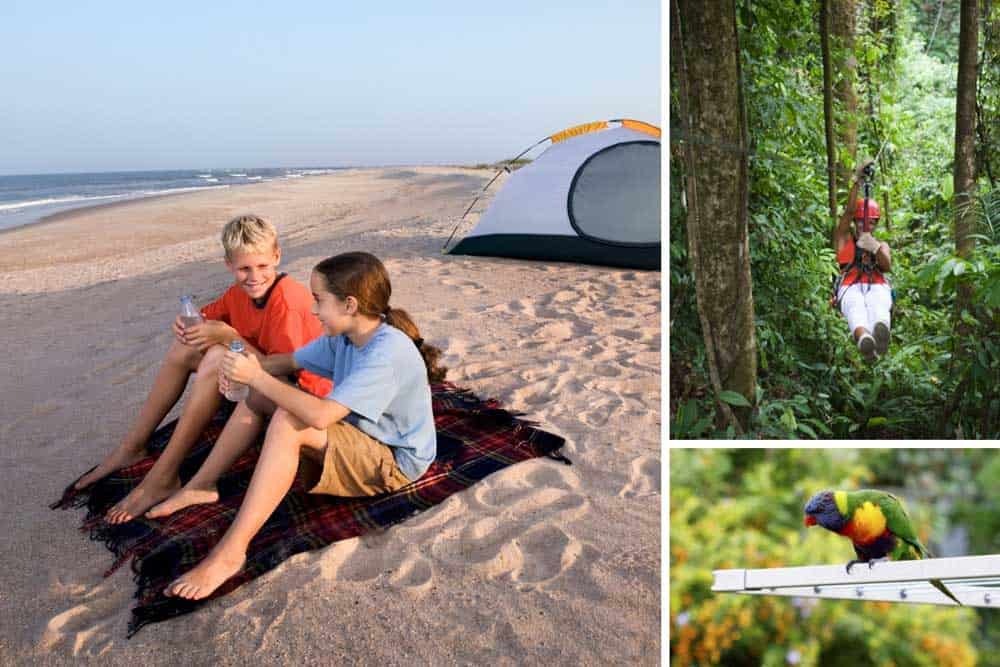 Gold Coast
The Gold Coast is a major tourism hub and is popular for its long beaches, rainforest and wildlife parks, nature reserves, sky-rise metropolis, and skyline. Over 10 million people visit the sunny Gold Coast and it's no wonder why the need for accommodation and holiday camping is ever prominent.
Accommodation
The Gold Coast is a highly urbanized city and people need to unwind away from the hustle and bustle of the metro. What's more, the growing need to billet holidaymakers appeals the coast to heed this call. Whether you're looking to camp, caravan, or tent at a beach or park, there are plenty of lodging options ranging from powered and unpowered sites to cabins and spa villas.
Treasure Island Holiday Park
South Stradbroke Island
Queensland Recreation Centres
Springbrook National Park
Tallebudgera Creek Tourist Park
Binna Burra Lodge Rainforest Campsite
Mt Barney Lodge
Tamborine Mountain Caravan and Camping Park
What to see and do at Gold Coast
There's no lack of fun on the coast – everything's sunny and exciting. From nature wonderland to sea life bonanza, there are a couple of sights and experiences the family will live.
Appreciate fauna and flora at the Currumbin Wildlife Sanctuary, Sea World, and Tangalooma Island Resort
Visit Moreton Island for dolphin feeding, swimming, shipwreck discovery, and parasailing among others
Take a family day out at Carrara Markets
Quad Biking in Numinbah Valley
Bushwalking with the family at Burleigh Heads National Park, Coolangatta to Point Danger, Lamington National Park, and the Gold Coast Oceanway
Enjoy oddities, scares, and effigies at Ripley's Believe It Or Not!, Dracula's Haunted House, and the Gold Coast Wax Museum
Whale watching by the coast
Zipline at Binna Burra Mountain Lodge at Lamington National Park
Camp and dine at their long beaches
Play at the parks and grounds of long beach fronts
---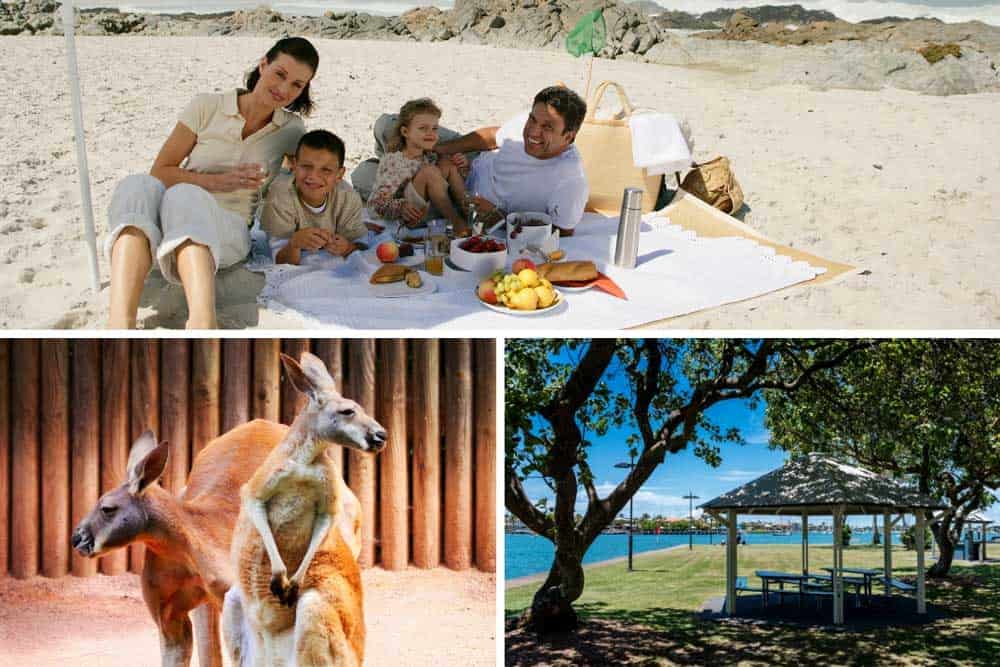 Sunshine Coast
Sunshine Coast is the perfect blend of the sea and the land with its pristine beaches and remote hinterlands. Its year-round sunshine makes it a popular family destination for a laid-back, quieter, and chill vacation.
Accommodation
Long stretches at the beach, vast national parks, wild and sweeping sand dunes, and the wild attractions for children let Sunshine Coast offer a quainter holiday camping for kids. One can find plenty of accommodation suitable for large groups at the coast's sunny stretch. Campervans, tents, lodges, holiday parks – you name it.
Cotton Tree Holiday Park
Landsborough Pines
Kenilworth Camping
Big4 Rivershore Resort
Noosa River Holiday Park
Mooloolaba Beach Holiday Park
Caloundra Waterfront Holiday Park
Coochin Creek
What to see and do at Sunshine Coast
Unlike the glamor offered by the Gold Coast, its Northern sister offers a more peaceful side of the country's best breaks. Sunshine Coast has an irresistible charm families can't resist.
Swim with the whales at Mooloolaba around July to October
Paddle, fish, and picnic with the whole family at Noosa River
Visit the Original Eumundi Markets and shop for souvenirs or eat local Turkish kebabs. Kids can also enjoy camel rides at the market
Take a scenic drive or walk across the Blackall Range and Glass House Mountains
Visit the Ginger Factory where kids and parents can ride a train and boat around the gardens. They get to enjoy food tastings, factory tours, and beekeeping
Visit the Underwater World at Mooloolaba and see sea life exhibits and zones
Take a drive at Montville for souvenirs, boutiques, art galleries, gift shops, and cafes
Pet a tiger and koala at the Australia Zoo
Ride and swim with horses at Rainbow Beach
Visit Fraser Island, a World Heritage-listed
Sunshine Coast is a hidden gem that houses endless beaches, sunny markets, and hinterland charm your kids will love. Enjoy your camping holiday with the whole family with the coast's warm and laid-back vibes.