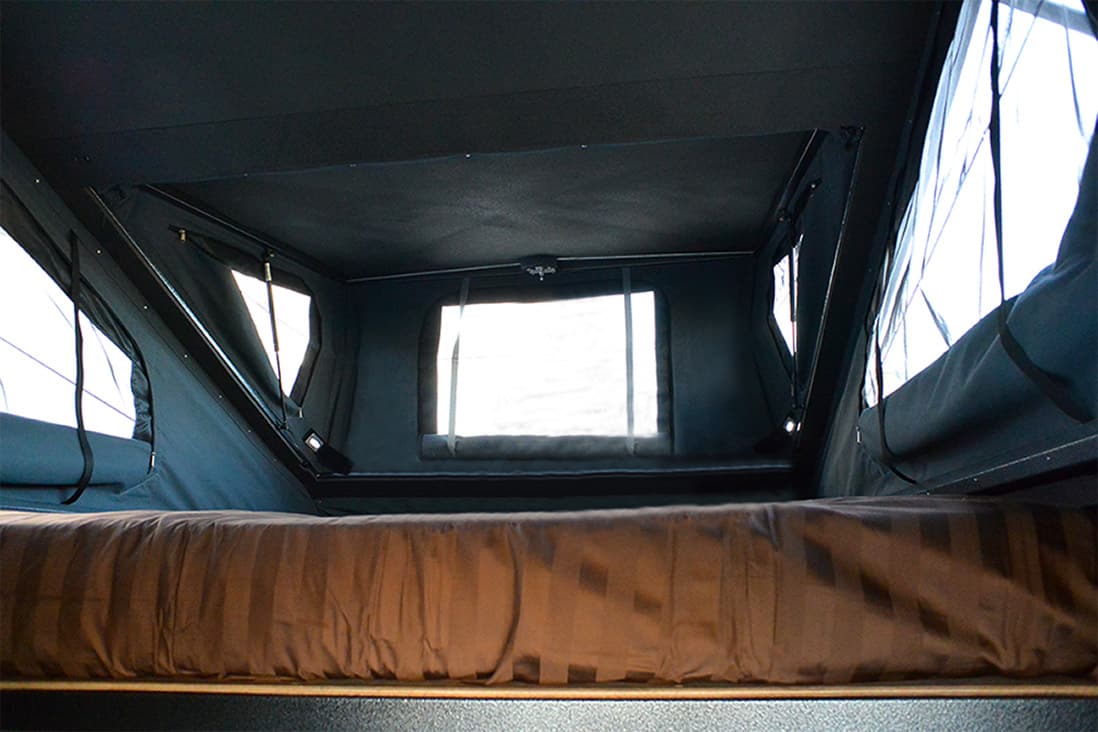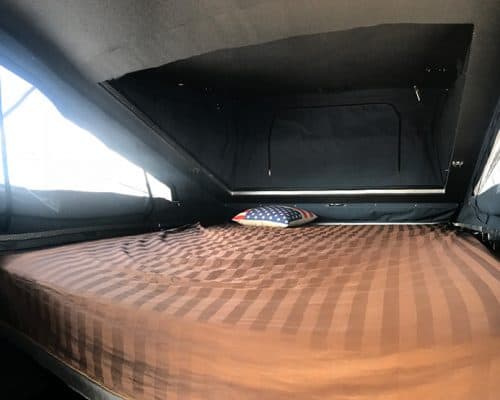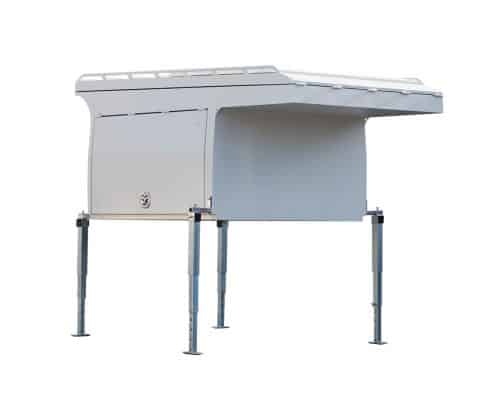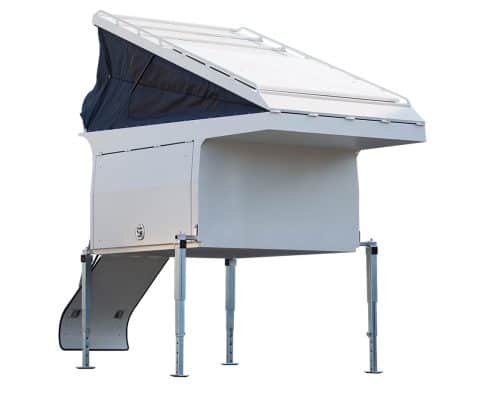 Access Rating
Access Rating 10/10.
The curved design improves access without compromising the lightweight, compact and aerodynamic profile.
The innovative design improves access in and out of the bed particularly for couples.
Curved rear stairs with handrails make entry and exiting the camper safe and easy.
Camper X Roof Design Benefits
The curved rear wall of the camper creates more internal space in the rear of the camper due to the extended roof length.
The X Roof of the camper creates a spacious sleeping quarters with plenty of headroom.
The additional windows facing 360 degrees capture the cool breeze from every angle.
Overall the camper has a distinctive and aesthetic design.
Seals and Security 
Dual slam locks that are internally and externally lockable make the opening and closing procedures as easy as possible.
Double sealed to resist water and dust entry.
Vehicle Compatibility
The camper has a 950mm headboard clearance to suit Ford Rangers, Mazda BT-50, Toyota Hilux, Holden Colorado, Nissan Navara, and Mitsubishi Triton.
Note: Modification of the tray headboard might be required for other vehicles such as the Toyota Landcruiser (Please call to discuss).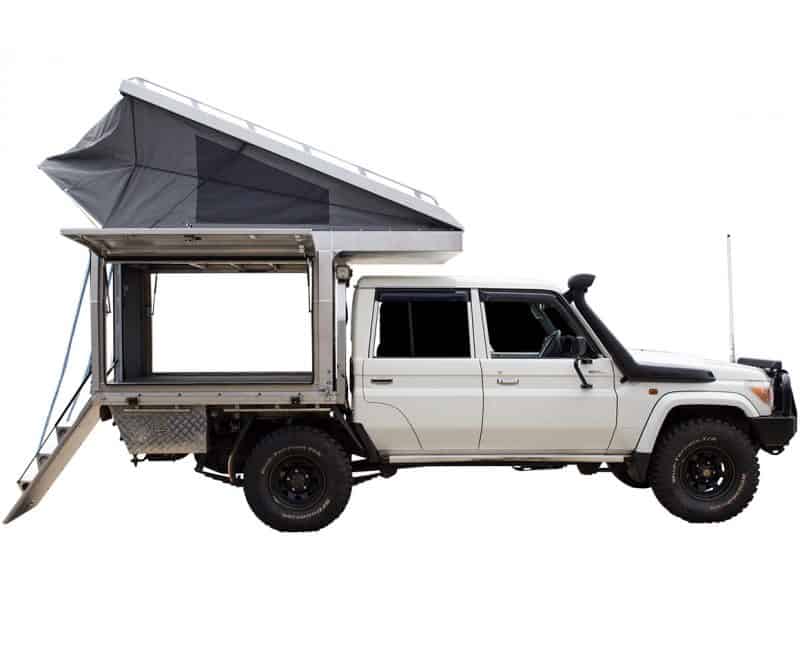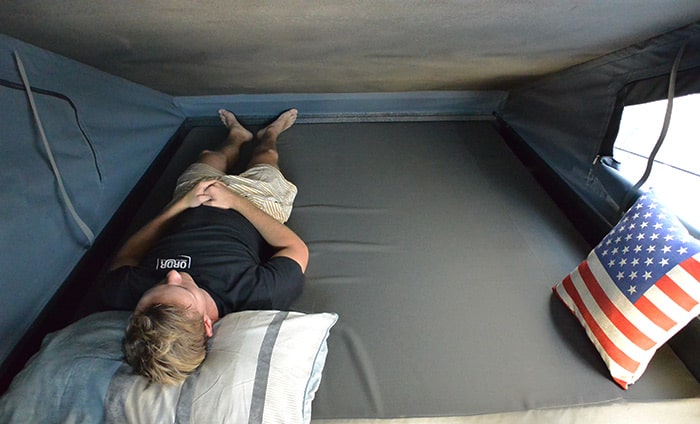 The standard camper includes all the fundaments required for your next camping expedition.
| | | | |
| --- | --- | --- | --- |
| Length (mm) Camper Base | 1800 | 2100 | 2400 |
| Length (mm) Overall | 3100 | 3100 | 3100 |
| Width (mm) Above Coaming Rail Notch | 1840 | 1840 | 1840 |
| Height (mm) Closed | 1370 | 1370 | 1370 |
| Height (mm) Open | 2350 | 2350 | 2350 |
| | | | | | |
| --- | --- | --- | --- | --- | --- |
| Space Cab | 2100 | 3100 | 1840 | 1370 | 2350 |
| Single Cab | 2400 | 3100 | 1840 | 1370 | 2350 |
Note: Coaming Rail Allowances
Individual trays vary significantly in design from manufacturer to manufacturer. Elements of the tray design that vary include: dimensions, manufactured materials, and assembly techniques.  For example, the majority of trays built from aluminium and steel will include a coaming rail down each side of the tray.
The primary purpose of the coaming rail is to provide assembled strength to the tray.  Commonly seen in aluminium trays, are coaming rails that are angular in shape.
The Tong camper is designed to include the coaming rail notch on each side of the camper. This ensures that the camper fits the majority of 4 x 4 ute trays in the market.
Mill Finish


2.5mm marine grade mill finish (5005) flat sheet
Powder coating recommended for this product

Dimple Plate

2mm marine grade dimple plate (5005)
Mill Finish

2.5mm marine grade mill finish (5005) flat sheet
Powder coating recommended for this product

Dimple Plate

2mm marine grade dimple plate (5005)
Powder Coating Procedure: Completed by leading local supplier. The aluminium components of the camper are manufactured and assembled to ensure conformity to design. Once manufactured and dry fitted, the camper is disassembled into its component parts, sanded, acid washed, dipped in chromate. The camper is then sprayed with the powder coating material, baked in an oven at 200 degrees, and then once cooled, reassembled and finished.
See the Powder Coat Colour Guide for more details.
The Tong Camper is designed specifically for use with 4-wheel drive, tray-backed vehicles.  By the nature of these vehicles, they are intended for off road use.  The Tong Camper is attached to your vehicle tray using four M10 heavy duty bolts. This is the only system of attachment that is offered for the Tong Camper.
Heavy Duty M10 Bolts and Plate:

Your camper will be attached to the Tray of your 4-wheel drive vehicle using 4 x M10 bolts.
NOW INCLUDES UPRIGHT MOBILE REFRIGERATION AND POWER AS STANDARD!
The Deluxe Internal Design is universal and fits all camper sizes. The Deluxe Internal Design aims to satisfy the 3 criteria that our customers request: 1. Functionally Comfortable Design, 2. Meal Preparation and latest Mobility Refrigeration technology, and 3. an Integrated Electronics Package.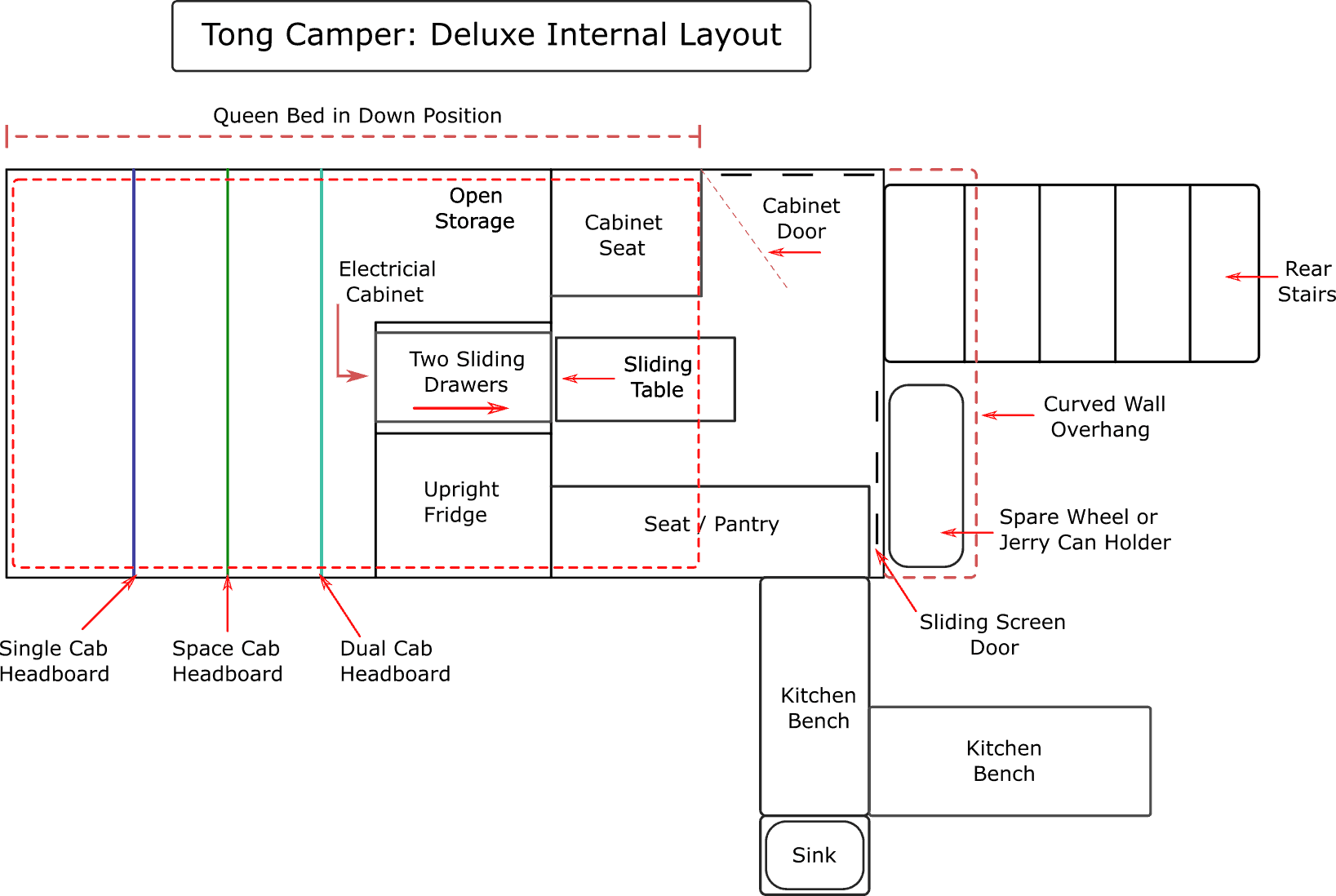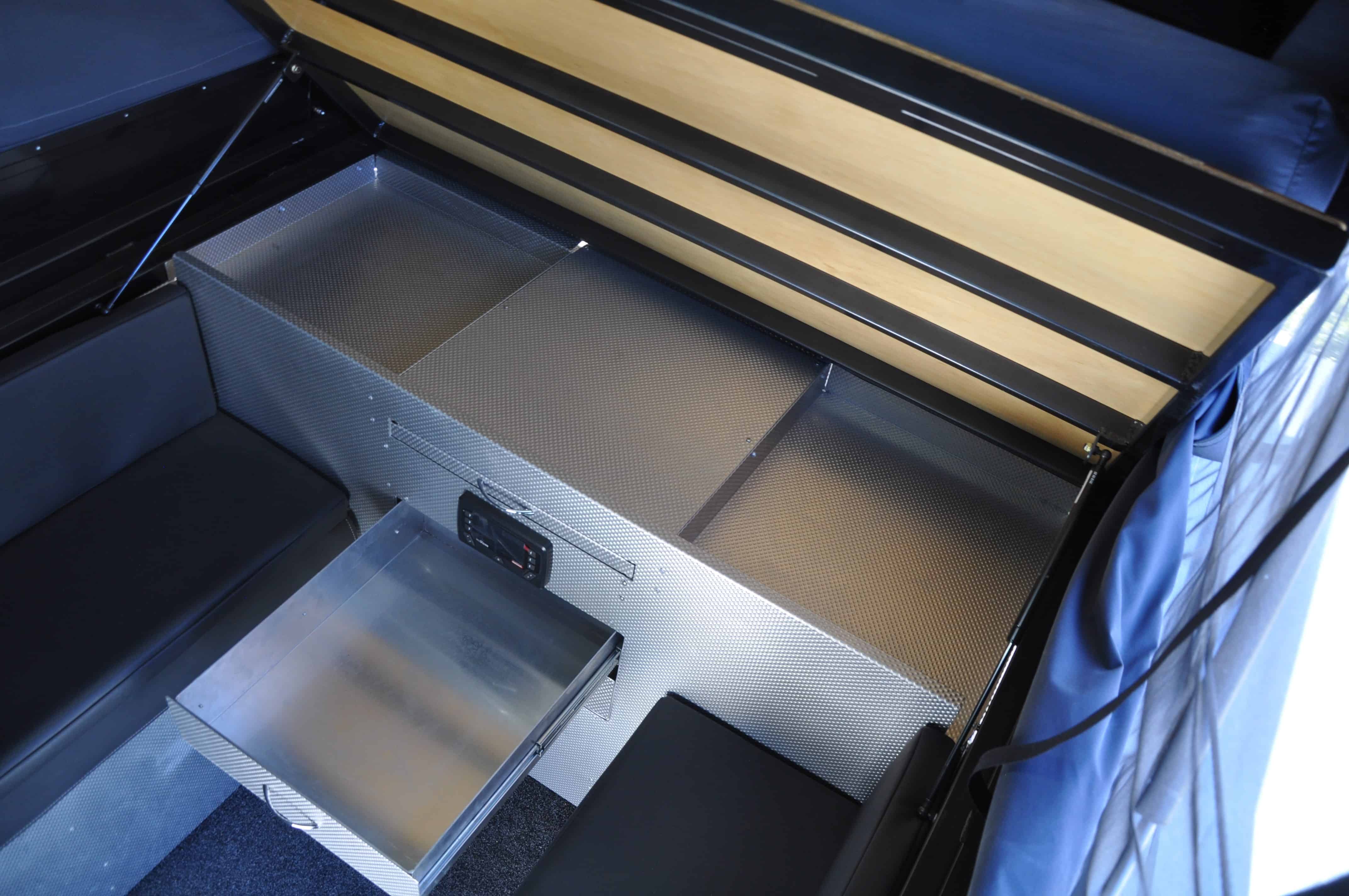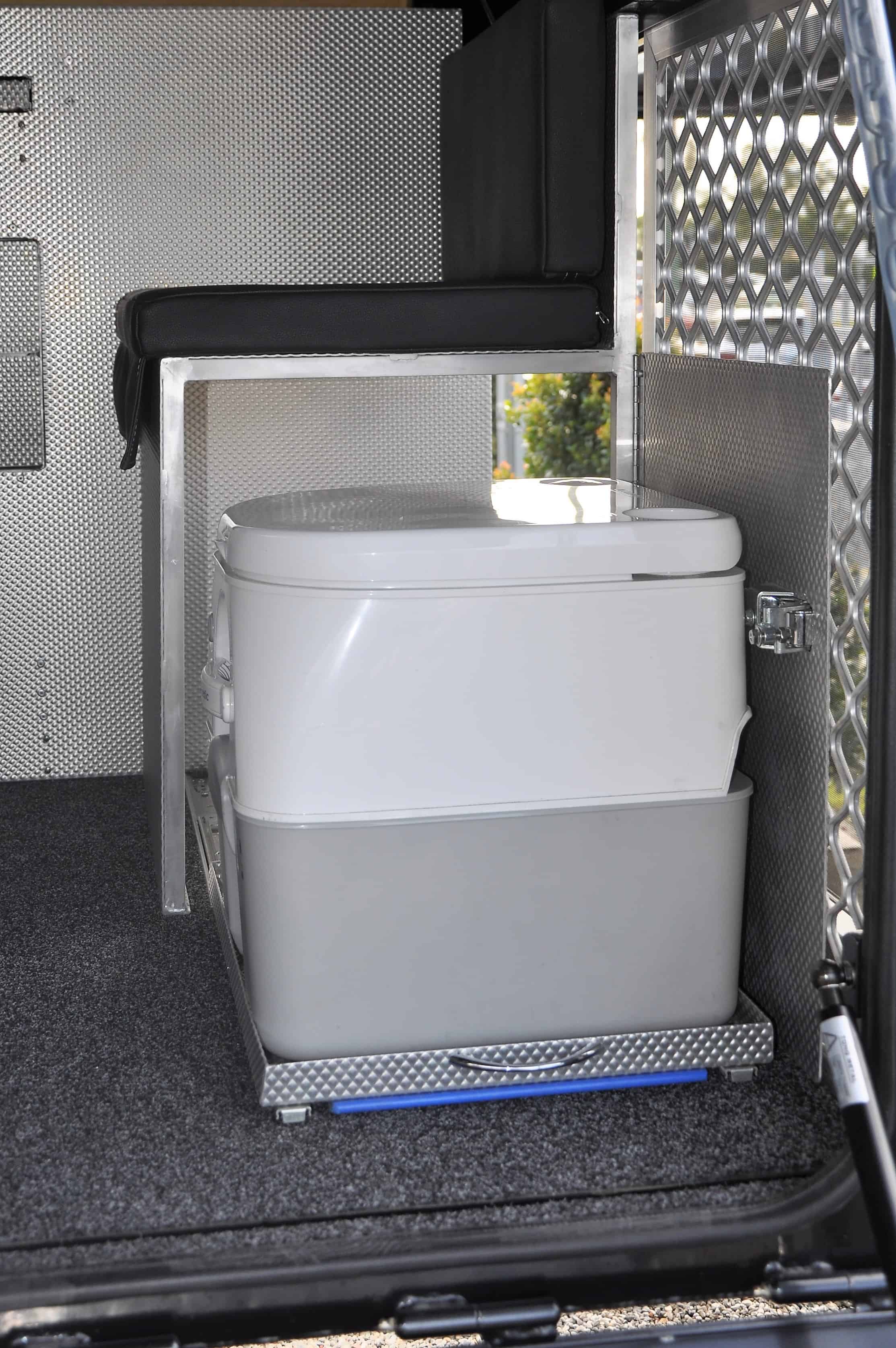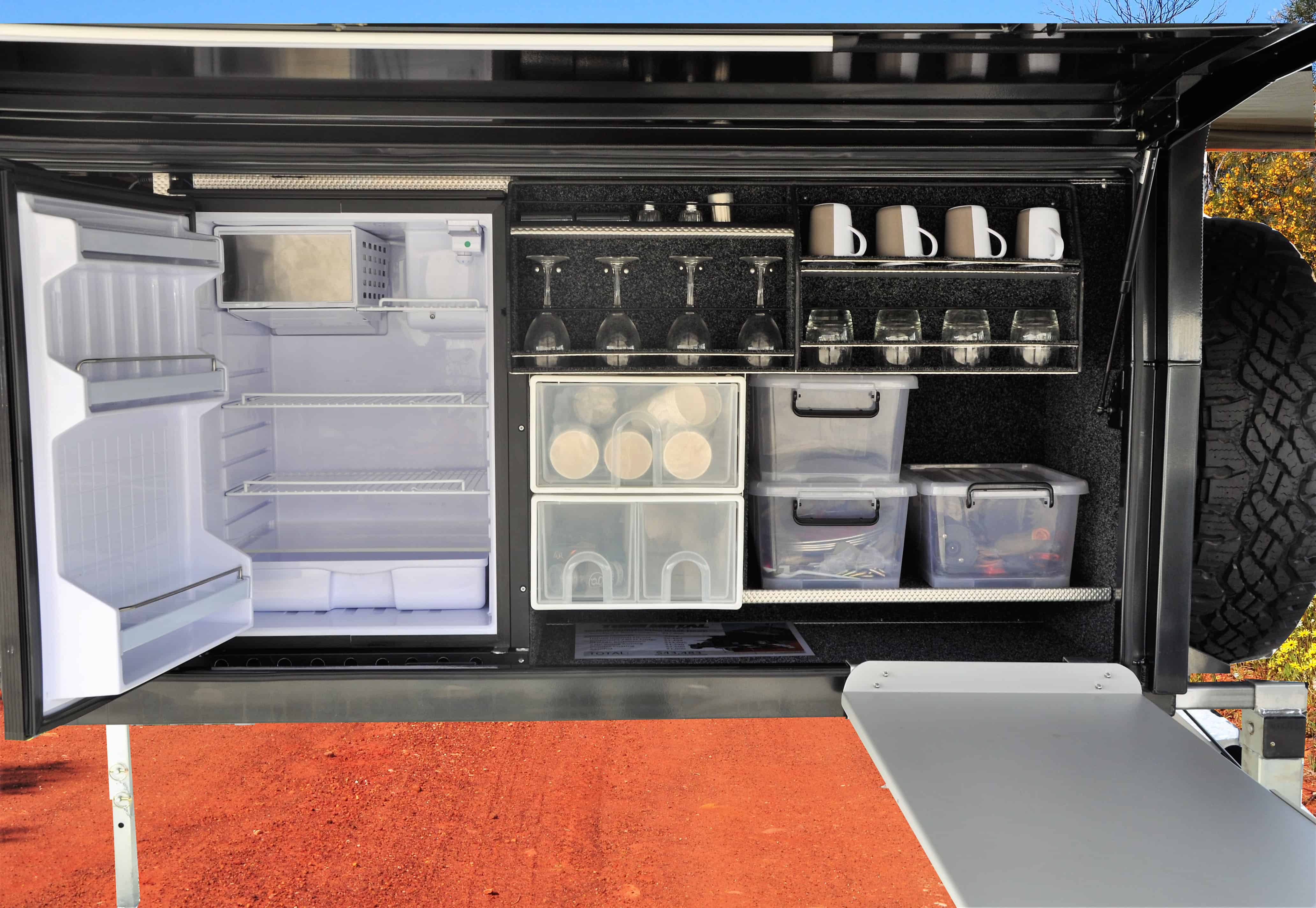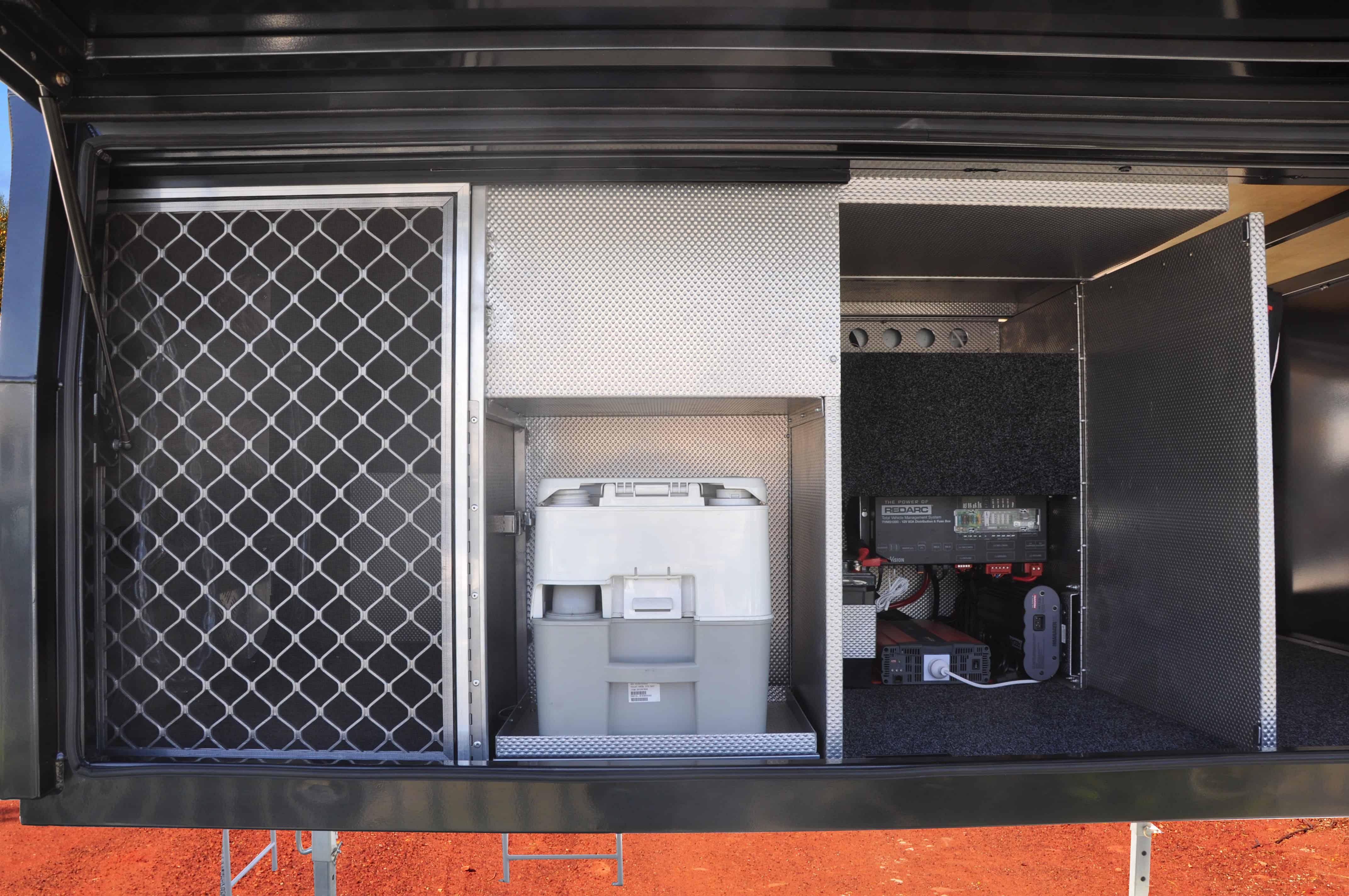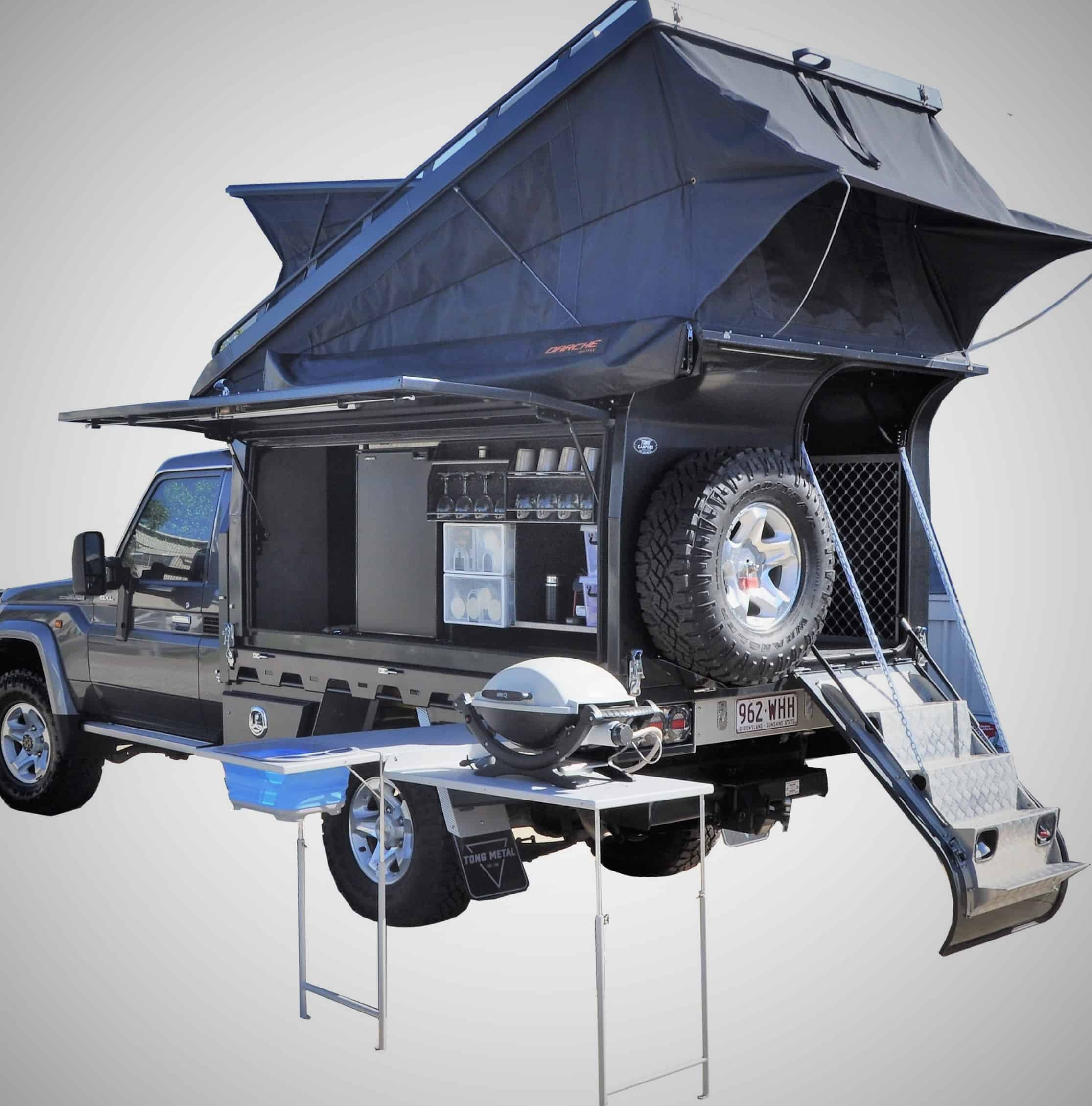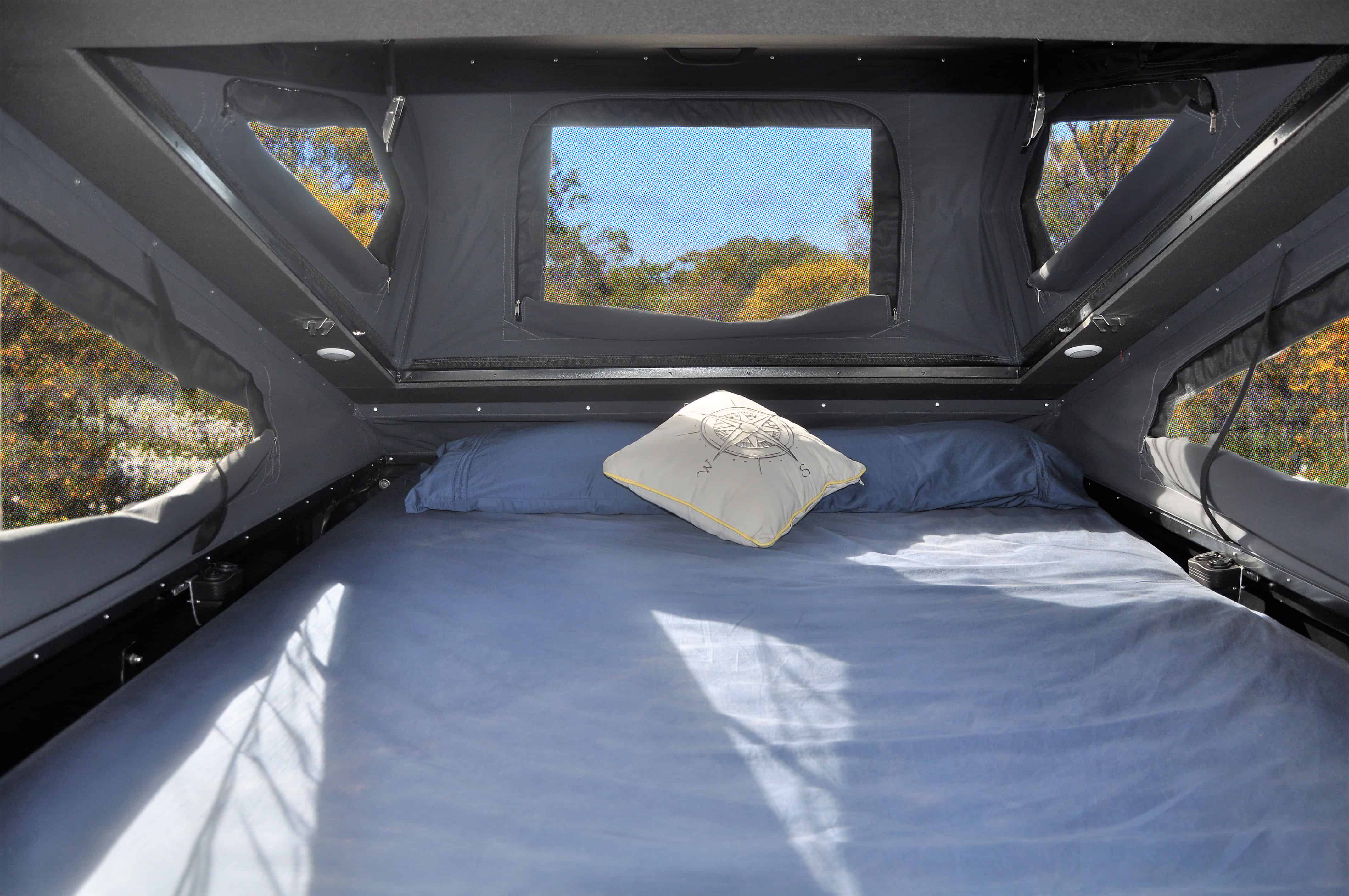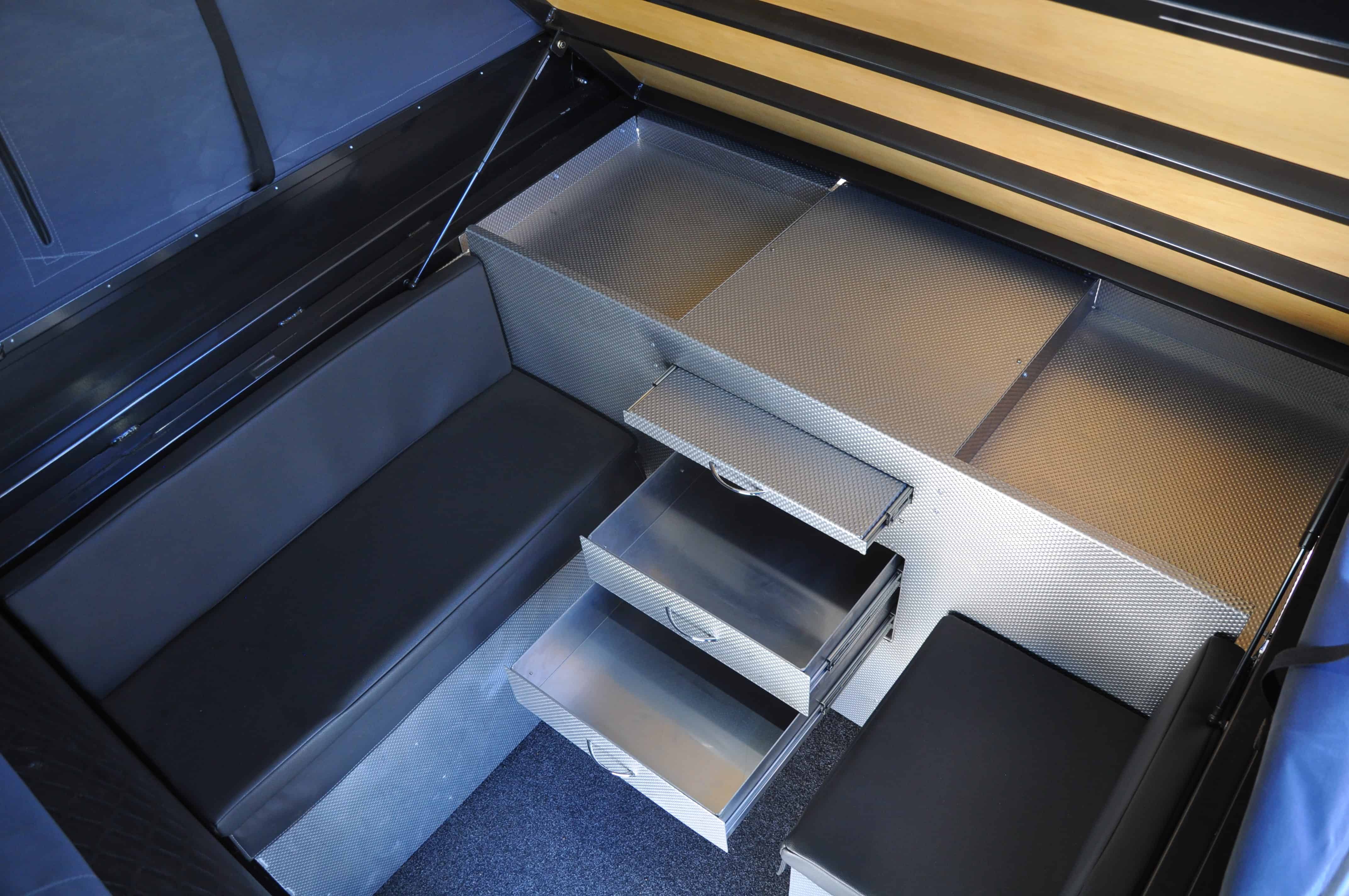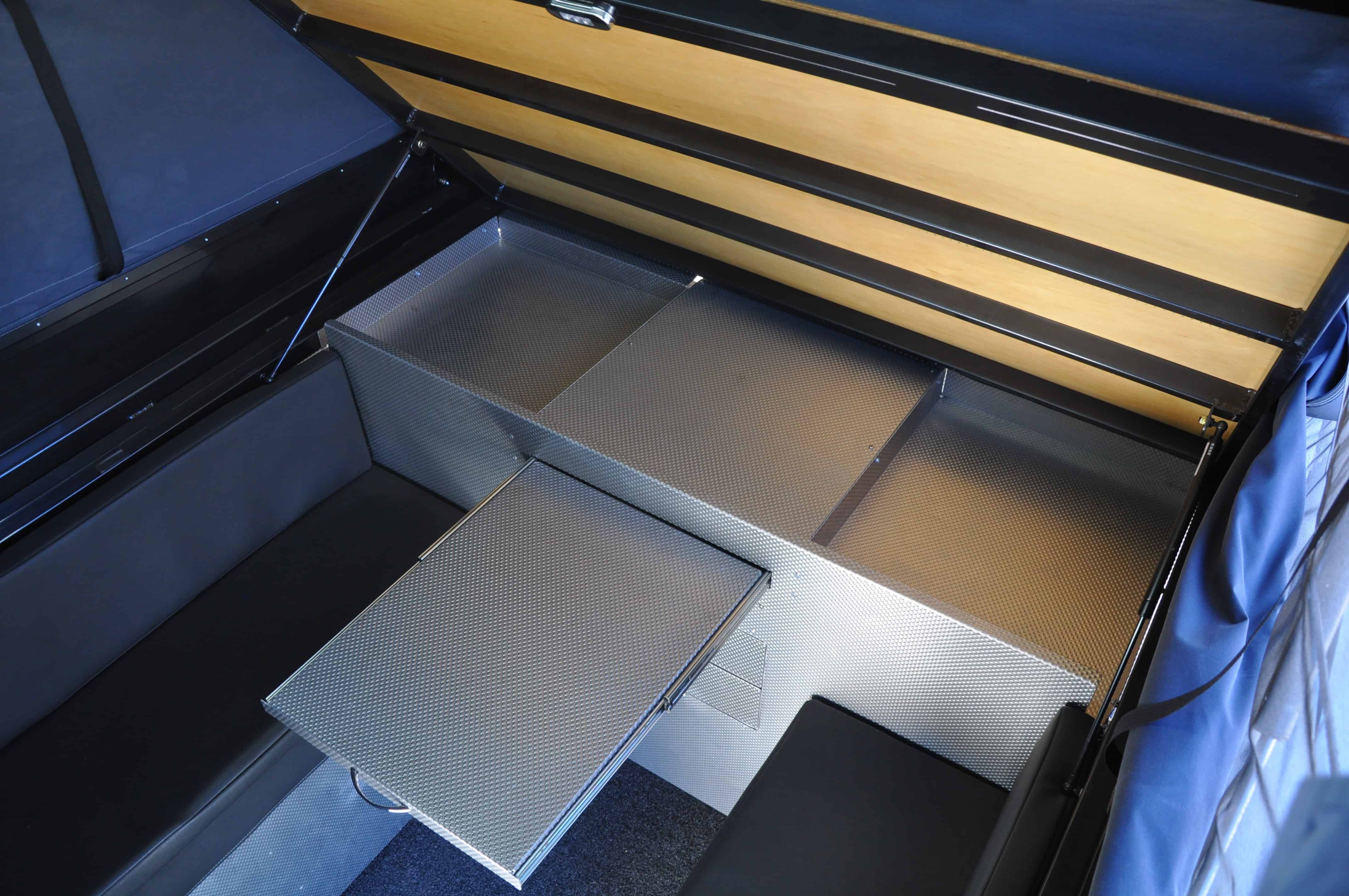 Functionally Comfortable Design
Robust Light Weight Construction:
Strategic Weight Distribution:
Meal Preparation and Mobility Refrigeration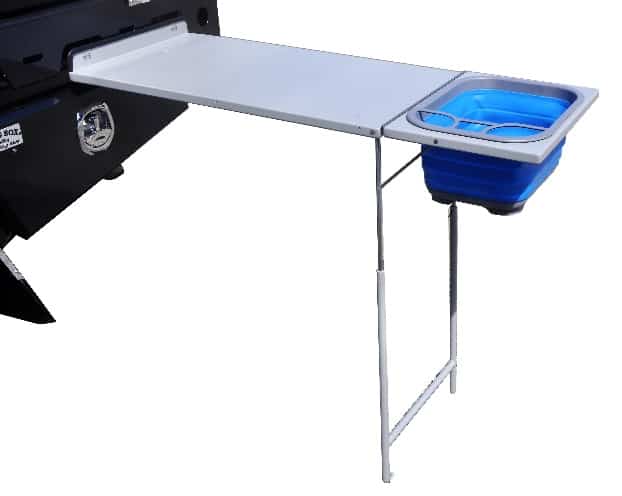 Most important criteria for meal preparation:
Included with Camper Deluxe Package:
Why detachable and not fold out tables? Safety and ease of use.
Standard kitchen benches are 900mm high. It's a comfortable and safe height for most people to prepare meals.
Fold out tables on vehicles such as ute canopies and slide-on campers are often in the range of 1,100 to 1,200mm high. Our detachable tables have a working height of approximately 900mm.
In combination with our upright mobility refrigeration, your camp kitchen is now much more like your home kitchen.
Cold storage of food and drink in the hot Australian climate is a topic that every traveller has to consider, regardless if it is simply how to keep my lunch cold while on the job, beer cold on the next fishing trip, or while traveling to a remote location with all provisions.
The humble Esky (Trademark, Coleman Company Inc.) and ice bricks, while still a popular way to keep food and drink cold, evolved into the chest fridge (an Esky with a compressor).
Today, very few homes still have a chest freezer. Upright refrigeration technology made the chest freezer redundant because it occupies a smaller footprint, is more accessible, and more energy efficient.
In some circumstances such as caravans and motorhomes, the electric chest fridge has already been replaced by the more familiar upright refrigerator.
Mobility upright refrigeration has evolved such that it is now compatible with slide-on campers. There is now available advanced and energy efficient compressor technology powered by 12 or 24 volt systems.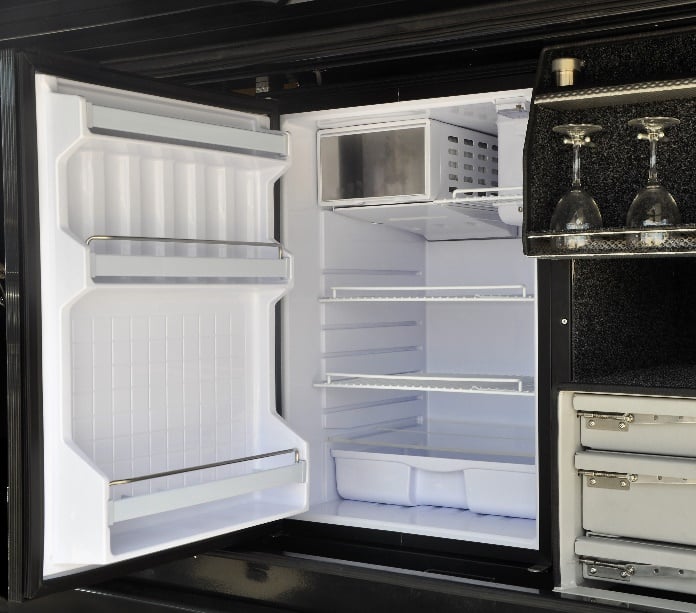 Benefits of Mobility Refrigeration:
The Traveler Electrical System
The Tong camper, Traveler System takes the comprehensive 12volt dual battery system to the next level: more lights and more power using a 220 Amp Hour AGM Battery. This system also includes a battery monitor plus an Anderson solar connector.
Other Options Available – Please Call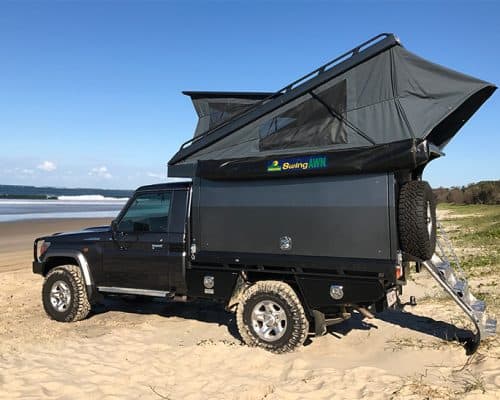 Weight: 19kg  (Fitted with brackets)
Designed Tough for Australian Conditions 
Technical Drawing: Tray Compatibility Guide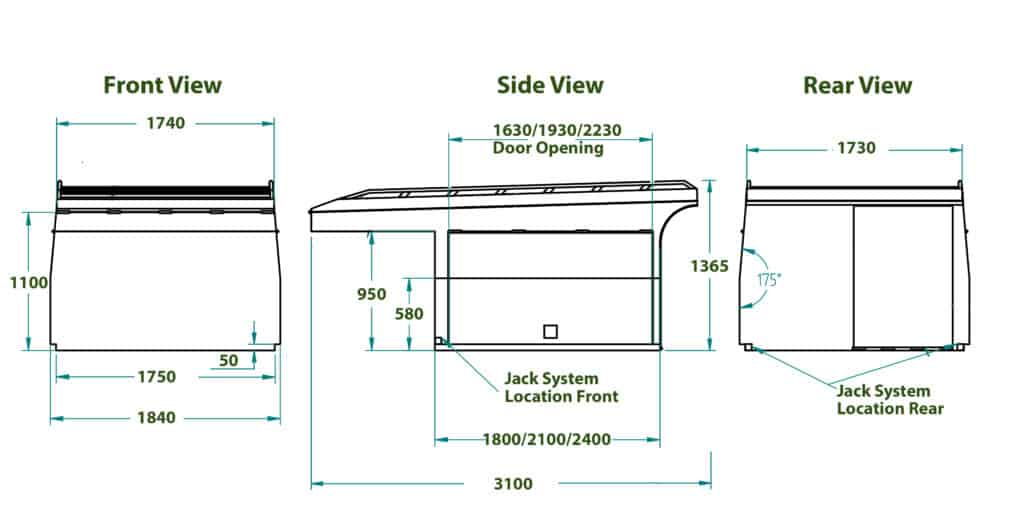 The standard camper is supplied as an open unit, however, all the hard work has been completed and is ready and waiting to be fitted out. A number of optional features can also be arranged for your convenience. Please check the Optional Extras link on the Camper Models Page for pricing of all the optional features available.
Tong campers are designed with dedicated touring and 4×4 enthusiast in mind. The campers are built around a fully welded structural frame to handle the rugged terrain of your next adventure. Backed by a 10-year structural warranty and years of testing, these camper will get you to your end destination.
Less Setup, More Adventure
20 Second Setup and 30 Second Pack up. 
No Towing ✔️ Wind Off Jacks ✔️ Huge Storage ✔️