New South Wales is famed for its red landscape and historical sites that make you ponder what it's like to have a blast from the past. Explore your next escapade at these awesome caravan and camper grounds – from Aboriginal middens to kayaking adventures, experience the best outback caravan sites in NSW.
NSW boasts of having the most diverse landscape in Australia complete with its breathtaking beaches, mountains, outback, and capped snowscapes. Not to mention, the state has six World Heritage Sites in their sublime wonders.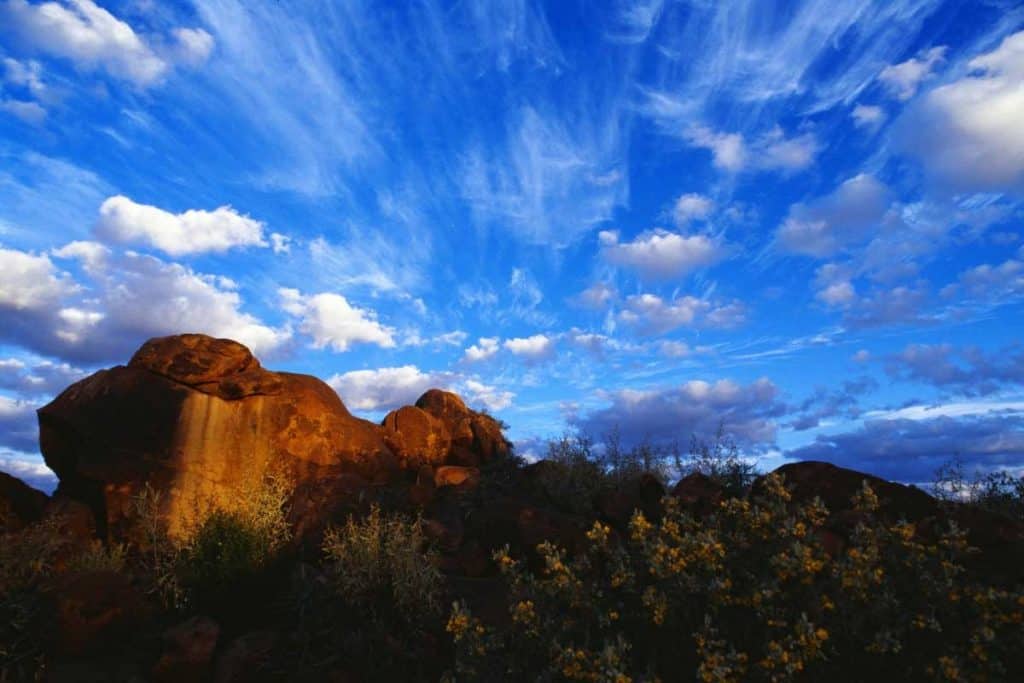 Outback caravan spots in NSW
You've ticked the checklist, packed your gears, and loaded the caravan – you're ready to go. Now, it's time to hit the road for these awesome caravan sites.
Bask in the great outdoors and breathe in the sceneries, landscapes, and rich indigenous culture of NSW. The diverse vistas are simply spellbinding. You can take a memorable caravanning or camping experience on the grounds of national parks and heritage sites.
Paroo-Darling National Park
Enjoy the red sand hills and artesian mound springs as much as the history of the park itself. You can stay at the Coach and Horses Campground for caravans and camper trailers set up.
You can make use of your time fishing, hiking, swimming or kayaking down the Darling River. You can bird-watch or grill your barbecues by the Peery Lake Picnic Area and have a chill afternoon with the roos.
Culgoa National Park
The park is famous for its eucalyptus coolabah trees and river red gums among the vast floodplains. The park holds the Culgoa River Campground which is ideal for campers looking for solitude and convenience of facilities. The site has picnic tables, toilets, camper and caravan sites, and carpark.
You have plenty of opportunities to hike, birdwatch, and stargaze at the park, especially in the Culgoa Connellys Track, Yuwura Yarun, Mirri Mirru Yurun bank walk.
Kinchega National Park
Kinchega National Park is popular for its Aboriginal articles and pastoral accounts of the old days. Campers can enjoy a range of history excursions at Kinchega Woolshed, Old Kinchega Homestead, or PS Providence.
There are plenty of camper and caravan sites for people looking to stay and enjoy the outbacks. Among them is Darling River Campground, Emu Lake Campground, Kinchega Shearers' Quarters, and Cawndilla Campground.
Gundabooka National Park
This national park is a place rich in Aboriginal history and vegetation. Guests can stay and enjoy having picnics, grilling barbecues, and birdwatching at Yanda Campground, Bennetts Gorge Picnic Area, and Dry Tank Campground and Picnic Area.
You can even hike along the trails of Little Mountain and Valley of the Eagles. However, the Mulgowan (Yappa) Aboriginal Art Site is considered as the "off the beaten track" experience, where you'll uncover various Aboriginal rock art and ceremonial sites.
Sturt National Park
The diversity of this historic heritage site is extant in the stretching plains of the outback. It contains ancient middens and stone relics of the Aboriginal people thousands of years ago. People can enjoy walking, exploring, and animal watching at Wells Walk, Sturt's Tree Walk, Mount Wood Summit, Volcano at the Granites, and Jump-Up Tracks. If you're not into walking and would rather drive in ancient roads, you can hit the breaks for a scenic view at Jump-Up Road Drive, Gorge Loop Drive, and Middle Road Drive.
What's more, visitors can enjoy two museums for an insight of different Australian settlers. The Outdoor Pastoral Museum is an open exhibition of early European bush life and work. Meanwhile, not far from Sturt National Park is the Courthouse Museum which houses sheep station relics, mining photographs, and European historical stories.
Mutawintji National Park
Mutawintji National Park is simply fascinating with its entire Aboriginal culture, history, and relics. You can even tour the park with Aboriginal guides in one of its Mutawintji Ecotours. There are a lot of walking tracks at Mutawintji for hiking adventures and discovering Aboriginal rock arts. Hike and wildlife sightsee at these walking trails: Bynguano Range, Homestead Gorge, Mutawintji Gorge, Rockholes Loop, Thaaklatjika Mingkana, and Western Ridge.
There, you can camp on Homestead Creek surrounded by red gums and wildflowers. They also have a designated picnic area at the campground where you can grill your barbecues among scenic views.
Toorale National Park
Toorale National Park is famous for its vast floodplains and outback waterscapes. You can find ephemeral lakes and swamps in this wonderful landscape and wetland. Set up your caravan beside the river in Darling River Campground and enjoy wildlife sightseeing. Take a break at the Many Big Rocks Picnic Area just a walking distance from the river.
You can also explore the Toorale Homestead and learn about the pastoral history of indigenous people, such as the Kurnu-Baakandji group. Visit Mount Talowla Lookout for a scenic view of the vast floodplains, and wildlife of the outback. Why not have caravan tours by the Darling River Drive as well?
The rugged outback of NSW will leave you lasting memories and images of the vast red landscape and floodplains. Get to experience beauty and history by camping beneath the stars of Australia's national parks.
---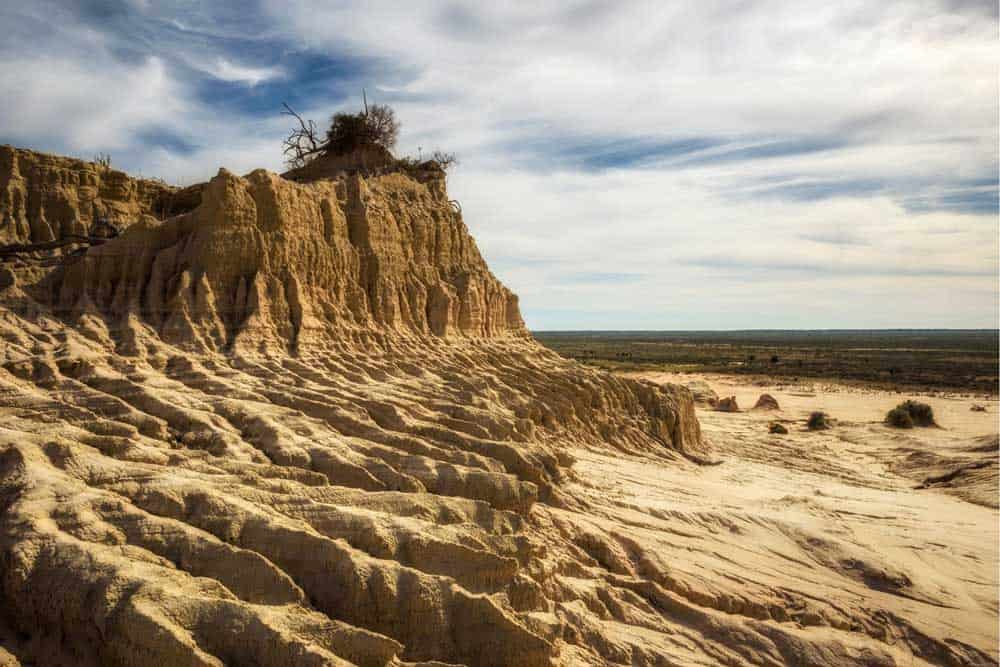 Other sites to explore
There are other sites to explore near the campgrounds that are worth visiting. Take the opportunity to visit these sites and relish culture, history, art, and more!
Mount Grenfell Historic Site
This Aboriginal rock art site is where you can find three galleries of painting depicting animals, human figures, and landscapes.
Ngiyampaa Trail
Along the summit of Mount Grenfell is the Ngiyampaa walking track. You can enjoy scenic views and wildlife watching in this flat landscape.
Mungo National Park
The Mungo National Park is where you can find remains of the Mungo Lady and Mungo Man lived 42,000 years ago. You can explore and hike along the rails of
Foreshore, Grasslands Nature, Mallee Stop, Walls of China, and Red Top. Moreover, you can find great camping grounds Belah Camp or an awesome stay at Mungo Shearers' Quarters.
Silverton
Silverton is a small town with big historical finds in every turn. It's a top destination for museum lovers, art enthusiasts, and movie aficionados. There's an old gaol, school, and functioning pub people and their kids can enjoy. Try visiting the Daydream Mine and get a glimpse of the lives of miners decades ago.
Broken Hill
This mining town's rich history draws a lot of guests traveling in the neighborhood. Also known as "The Silver City," it came to recognition upon the discovery of silver ore. Broken Hill is actually considered as one of Australia's National Heritage Sites, along with 12 more places like the Palace Hotel, Broken Hill Synagogue, and Broken Hill Trades Hall among many others.
---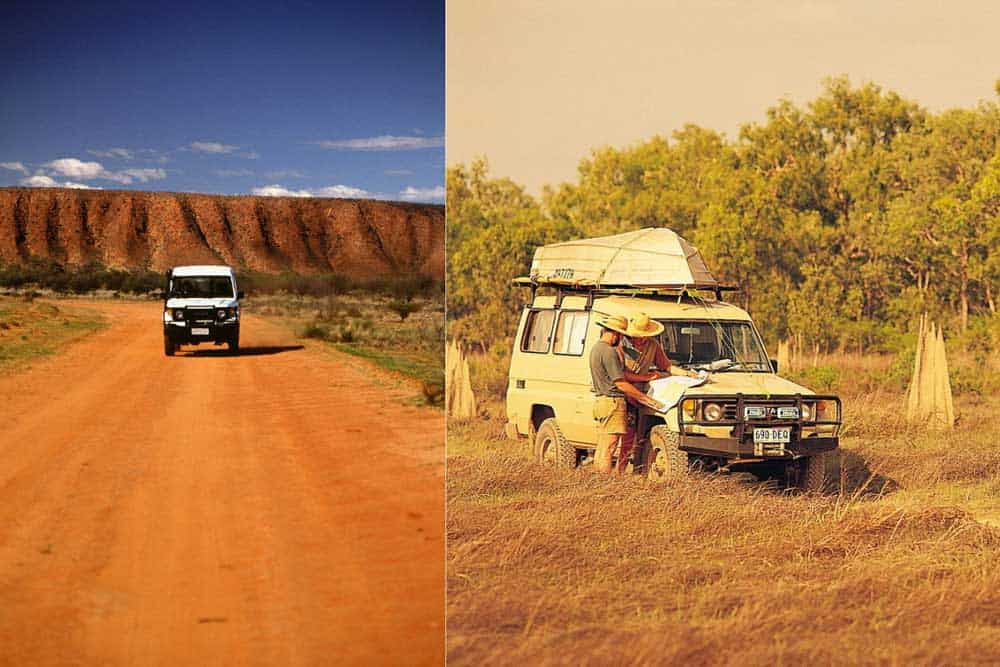 Tips for venturing Outback NSW
Don't know what to expect in the outback country? Here are tips to get you prepared and going for that caravanning trip.
Bring shades and sunscreen
The Australian outback can be sunny and hot – so, bring shades and apply sunscreen when you go hiking on the trails. During summer, the heat can be troublesome to many.
Bring and drink plenty of water
Keep yourself hydrated all times. Some people experience exhaustion in the outback and have a hard time going back to safer grounds.
Peak and off-peak travel
Choose whether you'll go caravanning in off-peak times which make the tour less crowded. If you want to go camping with fewer people around, know the schedules of each national park.
Food and fuel
Food and fuel areas are infrequent which makes them costly when you're going off-road. Prepare food along the way and gas up your caravan because it's going to be a long car trip.
Poor mobile coverage
Mobile coverage in the outback can be tricky and very unreliable. Don't rely on your phone for communication. Always leave important notes to loved ones before you go – or rather, bring a friend with you.
Outback vehicle preparation
Driving in the outback is quite challenging, especially with its rugged terrain and hot weather. This uncomfortable setting might make or break your holiday trip and, can possibly put yourself or your loved ones in a serious position. Vehicle preparation can be getting it serviced, storing spare parts, or loading your gears inside the caravan.