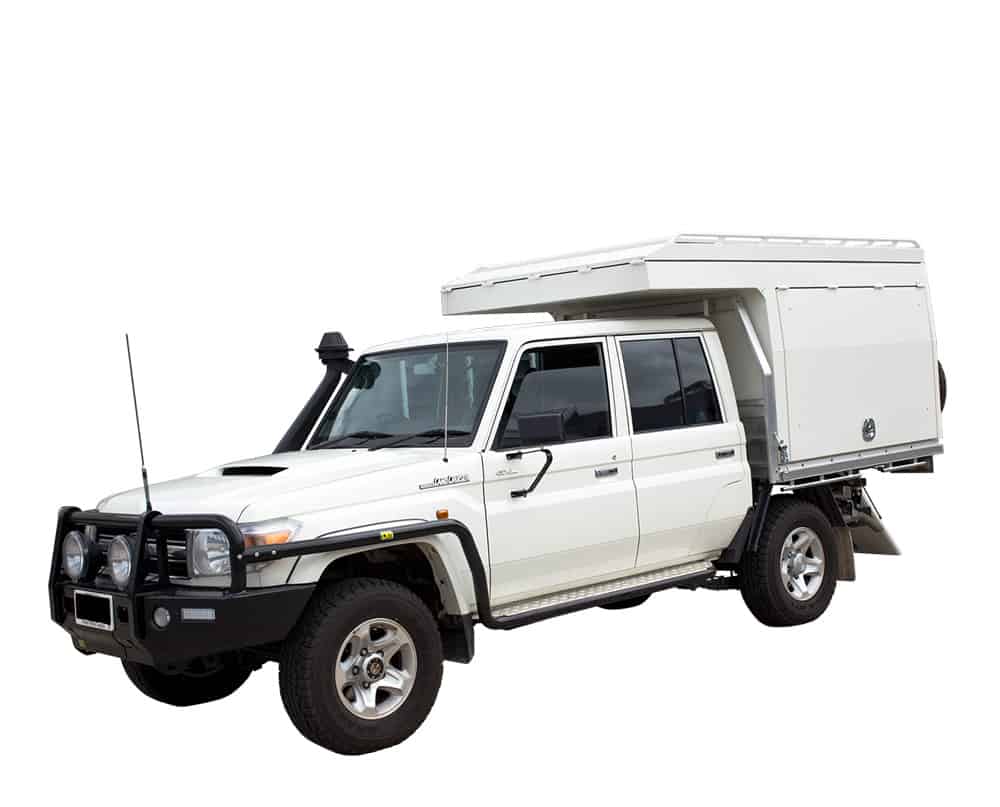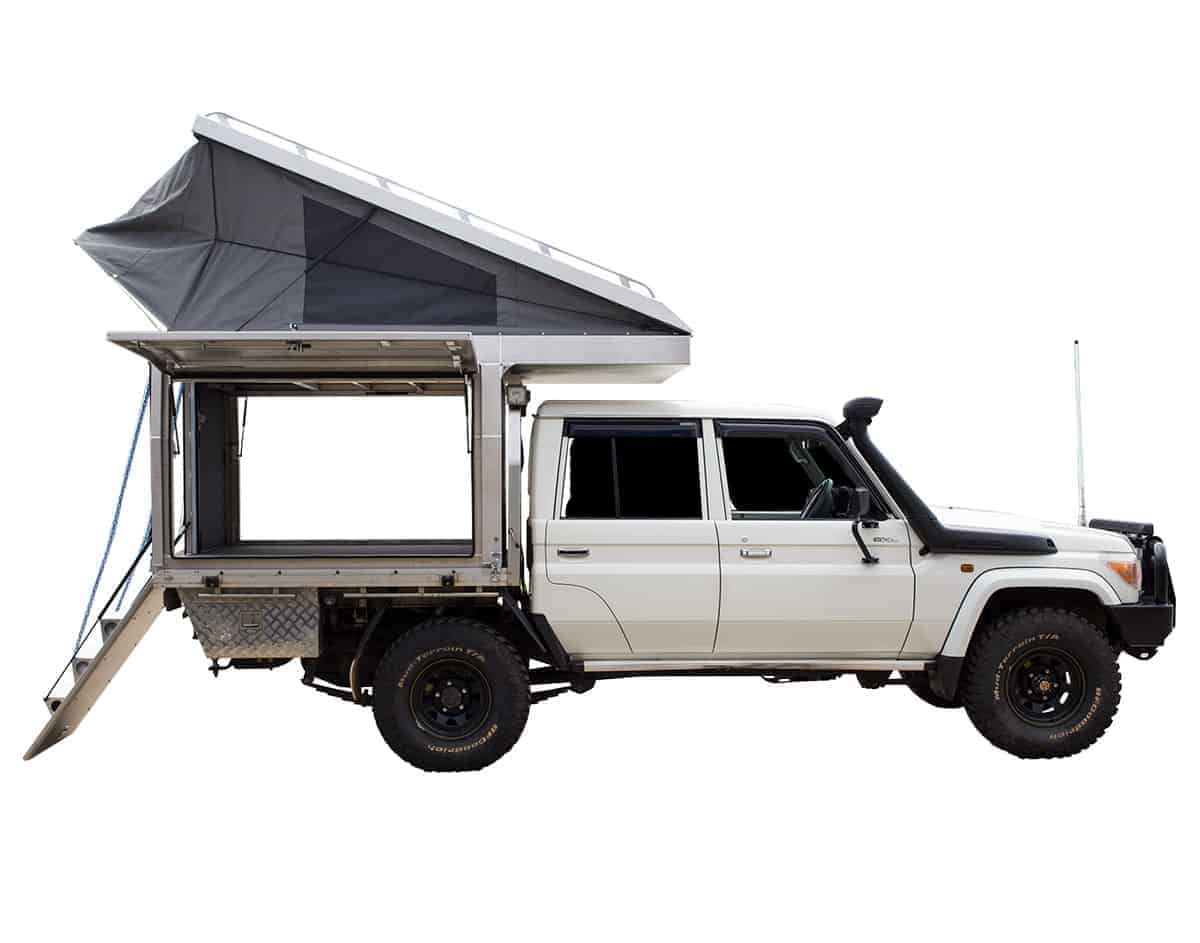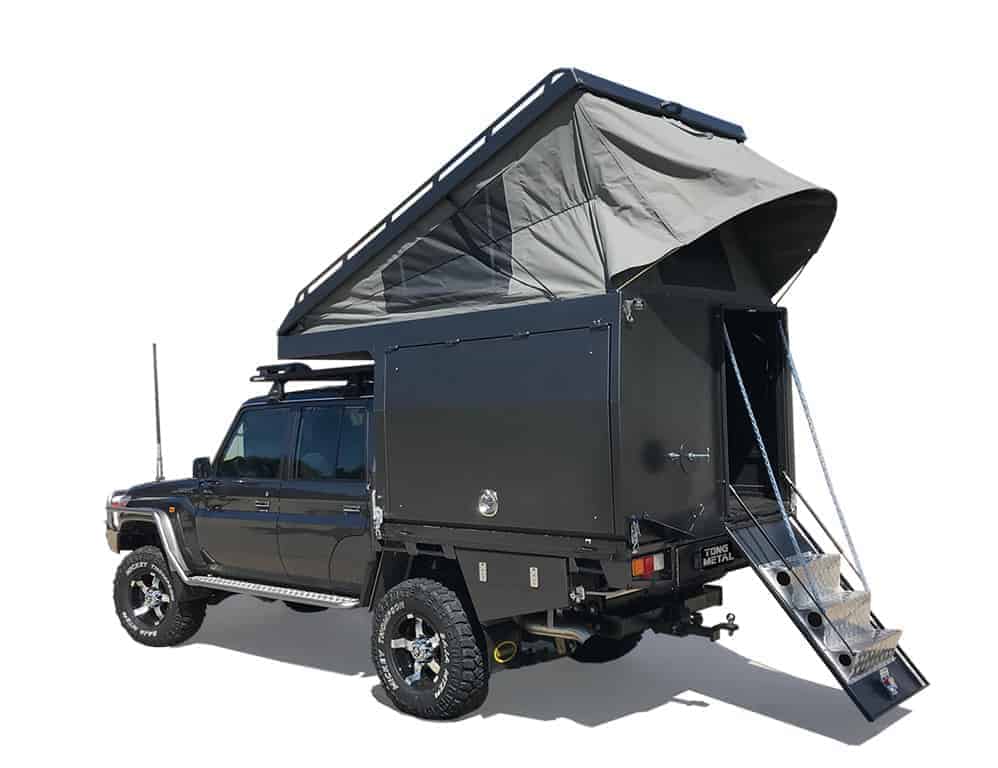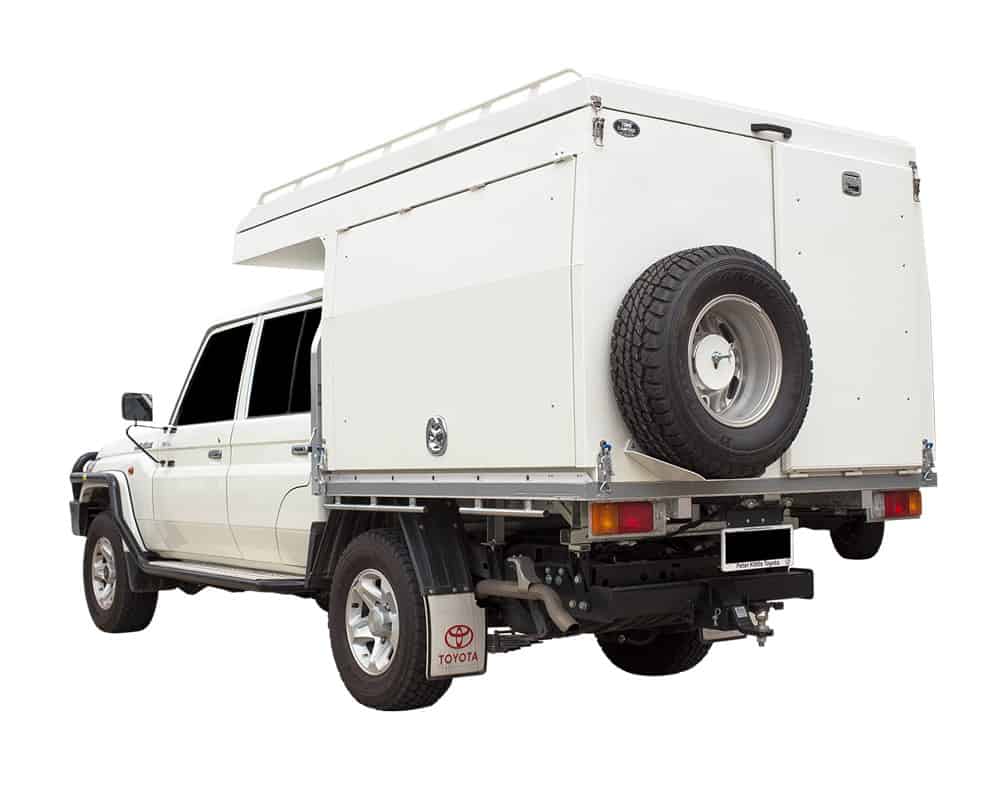 Profile Design Advantages
Total Closed Height: 1400mm
Bare Weight from 225kg or 275 Kg Including Jack Legs
Huge internal storage capacity
Taller doors for excellent side access and rear stairway entrance.
Vehicle Compatibility
The TTL has a 1080mm headboard clearance.
Suits: Designed for genuine Toyota Landcruiser Trays
This model is an excellent choice for vehicles that have a roof rack on the cabin of their vehicle underneath the over cab extension of the camper.
Dual Cab, Space Cab, Single Cab
Access Rating: 8/10
What's Included

Jack system: Includes, 4 x windable jacks, 4 x winding handles and stabilisation bolts 
Inner Spring Mattress: Australian Made, Design to be lightweight and durable – vented sides. 150mm thick. 
Folding Bed Platform: This feature doubles your usable standing floorspace 
Sliding Screen Door: Lockable Screen door that keeps you safe inside and keeps the insects and creepy crawlies out. 
Marine Carpet Flooring: Durable Hard Wearing Flooring 
Stable Stairs: A Signature feature of a Tong Metal Camper, no ladders or extra steps required. Our stairs are built in as a structural feature to the downward folding rear door. Gas struts provide assistance for opening and chains act as handles to assist with entry and exit. 
Dust and Water Seals: 100% Dust and Waterproof, no need to worry about water getting in – or even that pesky red dirt.
Structural Roof Rack: Not just a roof rack for show – Plenty of storage room on top for kayaks, bikes or other larger items.
Your Choice: Spare Wheel Mount or Dual Jerry Can Holder 
1) Start with Standard TTL Camper
2) Select Material
2mm Checker plate, 2.5mm Mill Finish, 2mm Dimple Plate
3) Select Optional Features
Select the optional features you need to construct your ideal touring setup.
This modular system allows you to control total weight and reduce cost.
4) Select Fitment Method
 Vehicles are required to be dropped off in the morning and collected in the afternoon. Public transport is located extremely close.
Heavy Duty Bolt Down (Recommended For Heavy Off Road)
Quick Release – Over Centre Latches. – Tray Compatibility Varies.